Rules:

If you do get one of my Dalmatians you mey not abuse them.
If you can no longer take care of them send them back to me.
You mey not put them up for download or put them up for adoption.
You must keep my prefix in the show name.
You must NOT change the call name or show name of the puppy.




NOTE: You can only adopt one of each eye color. If you want to breed ice eyed Dalmatians get a brown one and an ice one. I've had two brown eyed ones have an ice eyed puppy!

NOTE: If you get one of my Dalmatians the show name and mabey other notes will be in the profile.

NOTE: On some of the litters the colors got changed slightly but if it says they are orange they are the same orange as the one on the color chart.




1-Black and white
2-Black and orange (Only in litters)
3-Black and dark tan (Only in litters)






1-Brown
2-Hazel (None up for adoption)
3-Dark brown (None up for adoption)
4-Light grey (None up for adoption)
5-Grey (None up for adoption)
6-Ice
7-Blue
When It says "None up for adoption", it means that I only have one with that eye color and some will be up for custom adoption after my Dalmatians have more puppys with that eye color.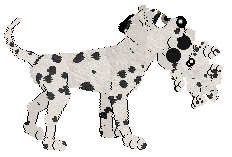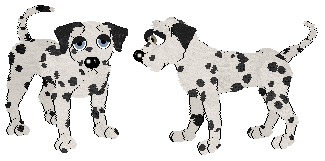 Litters
If you don't want a custom Dalmatian or you want to see it before you adopt or you want a rare colored Dalmatian, your in the right place. You can only get Dalmatians with different fur colors from litters. Remember, none of my Dalmatians are hexed, hex painted or mixed. I do not have mixed litters yet but I might have some soon.




Pup1-Female: ADOPTED
Pup2-Male: Not adopted
Pup3-Female: Not adopted
Pup4-Female: Not adopted
Pup5-Female: Not adopted



Pup1o-Male: Not adopted
Pup2o-Male: Not adopted
Pup3o-Male: Not adopted
Pup4o-Male: Not adopted
Pup5o-Male: ADOPTED


Do you use the spray bottle?
Yes No
Do agree ALL the rules?
Yes No
What do you intend to do with this Dalmatian?
Showing
Breeding
Mascot
Companionship

Why do you want this Dalmatian?